This is a page for items of interest to members.
Witney Woodland Volunteers – GDPR statement
The WWV committee will be the 'Controller' of the personal data you provide to us on the membership form, together with weekly attendance statistics.
Why we need your data
We need this information in order to communicate with you and to keep membership records and statistics. We do not store any personal data that we do not need.
What we do with your data
Records are stored on paper (the membership form) and on our secure (https), password-protected web server. No third parties have access to your personal data unless the law allows them to do so. We do not share your data.
How long we keep your data
We keep your data for the period of your membership.
Your rights
If at any point you believe the information we process on you is incorrect you can request to see this information and have it corrected or deleted. If you wish to raise a complaint on how we have handled your personal data, you can contact us to have the matter investigated. If you are not satisfied with our response or believe we are processing your personal data not in accordance with the law you can complain to the Information Commissioner's Office: https://ico.org.uk/
Current insurance documentation:
Public Liability Certificate 2021
Insurance Policy Schedule 2021
Health and Safety information:
Health and Safety Hazard and Control document (this proforma will be updated in the light of experience)
GOOGLE MAIL – spam problems.
Google mail has suddenly become much keener to classify communications from witneywood.uk as spam. This is a tutorial on how to overcome this annoying issue.
Use the web interface on a computer: https://mail.google.com/mail/u/0/#inbox making sure that you are logged on.
2. Go to https://mail.google.com/mail/u/0/#settings/filters
3. Click on "create a new filter" at the bottom of the panel. Insert [WWV Membership] as the subject. Click on "Create Filter".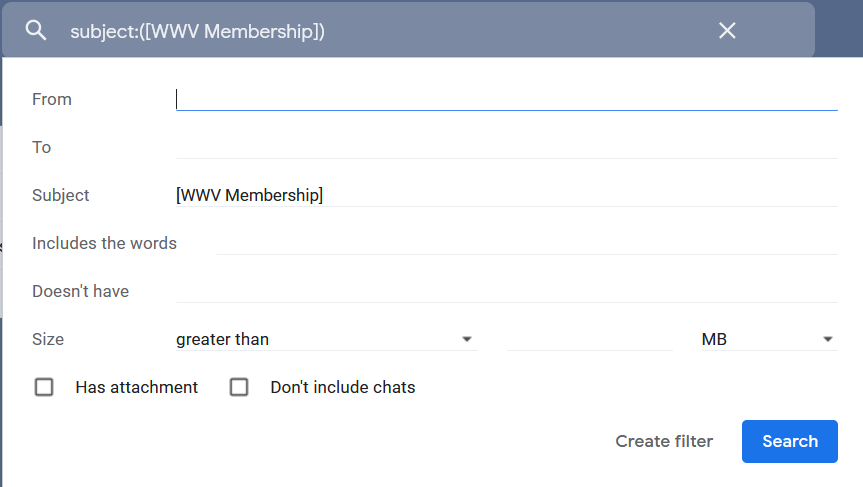 4. In the panel below, tick as indicated. Click on "Create Filter".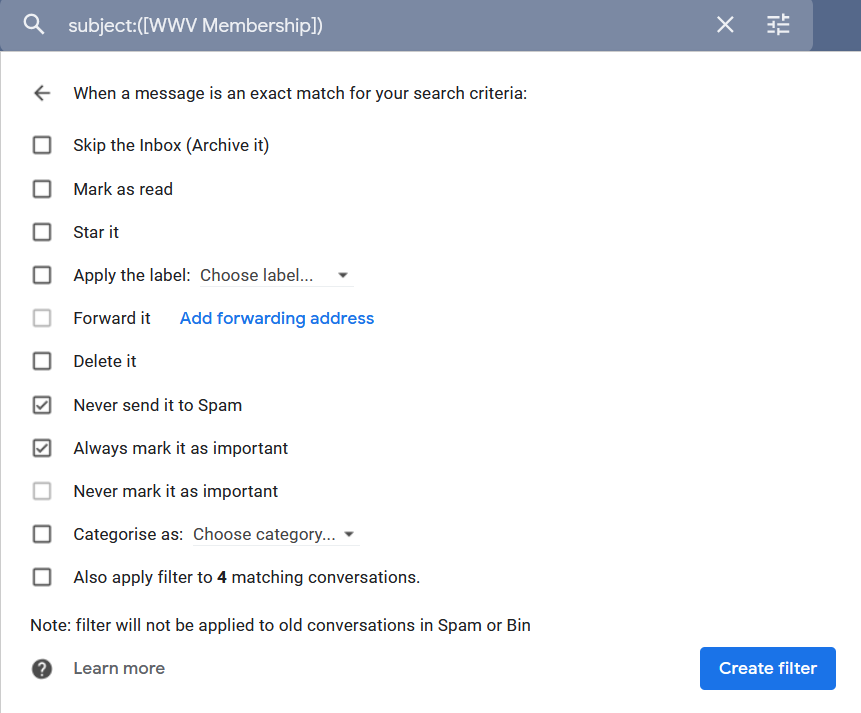 5. You can do this for all those legitimate subjects, senders or whatever that you find going into spam.
6. (Alternatively, you can also block or delete annoying subjects, senders or whatever.)
I hope that this has been useful. Let me know if you have problems.